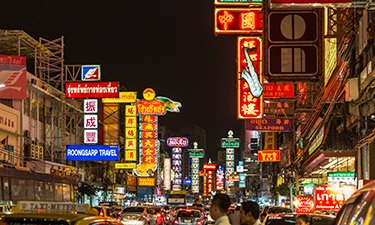 Bangkok's China Town
China Town or "Yaowarat" is the biggest Chinese community and popular tourist attraction for all the food lovers in Thailand. At day time, it is famous for the largest gold trading for a long period of time. You can also enjoy the original Chinese restaurant, herb shop, or visiting to the Chinese temple. At night time, the heaven for all the food lovers begin, both sides of the street will fill up with an incredible food stall that mouthwatering you with Chinese food and seafood. Yaowarat is famous for both Thai and Foreigner. So, don't forget to come and visit once while you stay in Thailand!
How to get there: Use MRT subway from Sukhumvit Station to Hualamphong station. Walk from the station for 10-15 minute.